"QURAN O ITRAT ACADEMY ANNOUNCES"
10th COMPETITION OF OPEN BOOK EXAM
"Give answers of 50 questions of Fiqh & Akhlaq with references at your home and win the prizes"
Age Limit:
12 years above for both ladies & gents.
Time:

7-9 Feb 2015 B/w 2-6 pm

Books:
1: 25 questions from Tauzeeh ul Masail Ayatullah Sistani d.b.(Masla NO.

1-1664

)
2: 25 questions from Nehaj-ul-Balagha (PAGE:

22-286

)
Registration Fees:
Rs : 20
Contact:
0335-2783533 ,32237207
FOR HAUZA STUDENTS
You can prepare for your hauza exams on our website by solving paper of your books online on our website, you will be provided with your results immediately.
WATCH LIVE SHRINE

Watch karbala live on our website, shrine of imam ALI RAZA (a.s), IMAM HUSSAIN(a.s) and of other MASOOMEEN (a.s)
Online Question and Answer System in Urdu.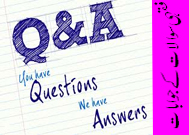 Questions from all over the world in Urdu language about Ibadat, Muamlat, Social Problem, Ikhlaqiat and Aqaid aur Answered in urdu Language.