OPEN BOOK EXAM#19.
All the participants of Open Book Exam # 19 who have collected the Question Papers from QURAN O ITRAT ACADEMY are requested to submit their solved papers
from 18-20th January Thursday, Friday, Saturday between 2pm - 5pm.
CASH PRIZES for all Participants & LUCKY DRAW of 3 Bumper Prizes (1st Prize of Rs:20,000, 2nd Prize of Rs:15,000, 3rd Prize of Rs:10,000) among 100% Marks holders.
Please Inform Others JazakAllah
Mobile Number: 03347329748
Phone Number: 021-32226948 & 32237207.
Academy Timing: 8:00 AM - 6:00 PM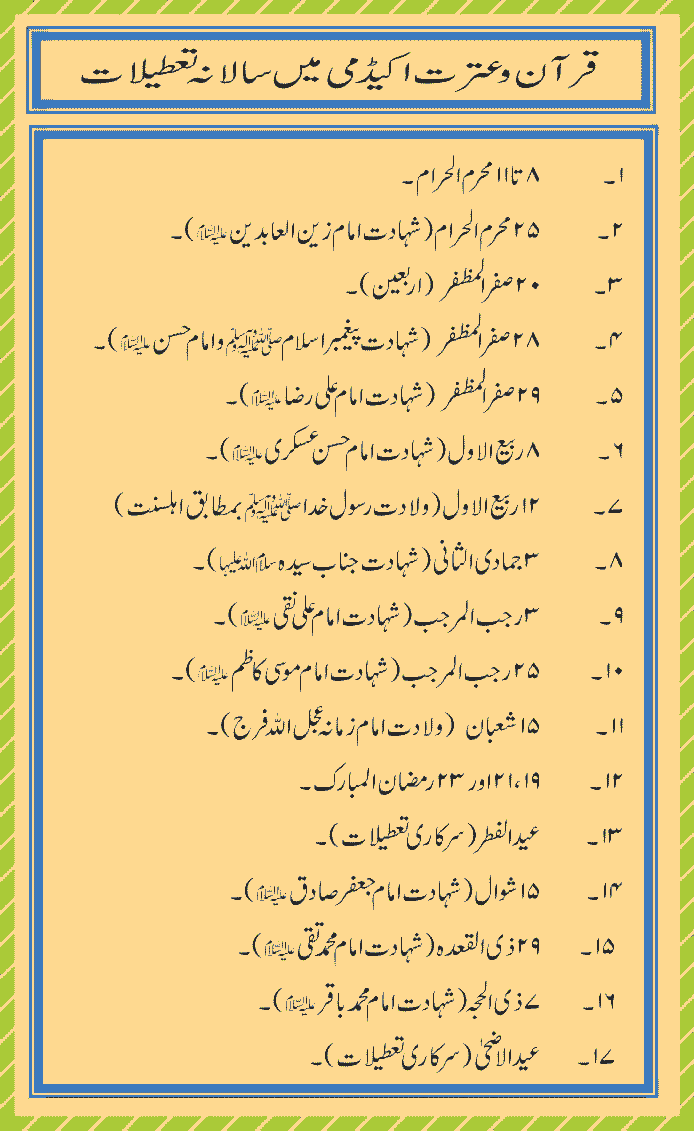 Quran-o-Itrat Academy was established in 1992. It is a religious educational institute which produces scholars. Along with religious education some other activities such as Translation, Answering Fatwas, Delivering Speeches & Lectures round the year, providing Ulmas to different institutions, counciling etc. are carried out in this institution.
Hujjat ul Islam Maulana Ali Raza Mehdavi is the Administrator of the academy and has got permission (Ijaaza) from different Mujtahideen for collecting Khums and Various other receipts. By virtue of this the academy provides financial help to students.
We wish to share the humble cause together.
Head Office : 365/1, Pire Street, Garden East, off buisness recorder road, Gurumandir, Karachi, Pakistan-74400
Phone : (0092-21) 32226948, 32237207
E-mail : info@qoitrat.org
Contact Us || Online Payments